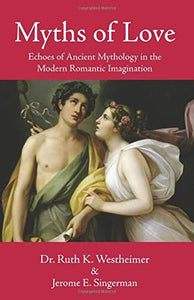 Myths of Love
by Dr. Ruth Westheimer & Jerome E. Singerman
Dr. Ruth Westheimer, America's favorite sex therapist, analyzes ancient myth and its relevance to 21st century relationships in her new book "Myths of Love: Echoes of Greek and Roman Mythology in the Modern Romantic Imagination." From humanity's earliest beginnings, people have puzzled over the dual nature of love. For the ancient Greeks and Romans, love was sweet, but it was also irrational, cruel, and often deadly. Faced with the terrible paradox of love, classical civilization produced some of the most psychologically insightful myths of all time—stories of classic archetypes such as Narcissus, Helen of Troy, and Venus and Adonis.

Dr. Ruth and classical scholar Jerome E. Singerman insightfully examine the underlying psychology of the ancient myths and explain why their universal appeal has shaped the imagination of Western civilization for millennia. "Myths of Love" traces how these myths of endured in literature and art across the centuries and how they still influence how we think about sex and relationships today.

Surveying a vast range of Greek and Roman literature from Homer to Ovid, "Myths of Love" retells and reconsiders the full gamut of human sexual experience, from the tenderest expressions of married love to the savage, self-destructive passions of narcissism on jealousy. Bridging high culture and pop culture, "Myths of Love" reveals the secret connections between classic literature and today's popular novels and films.

A stimulating blend of art, science, ancient religion, and the passions and contradictions of the human heart, "Myths of Love" is a smart and sexy revisit to the roots of Western culture's eternal fascination with love.