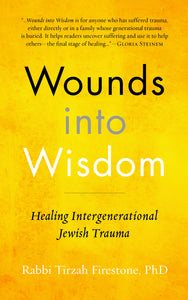 Wounds Into Wisdom: Healing Intergenerational Jewish Trauma
Our past does not simply disappear. The painful history of our ancestors and their rich cultural wisdom intertwine within us to create the patterns of our future. Even when past trauma remains unspoken or has long been forgotten, it becomes part of us and our children―a legacy of both strength and woundedness that shapes our lives.

In this book, Tirzah Firestone brings to life the profound impact of protracted historical trauma through the compelling narratives of Israeli terror victims, Holocaust survivors, and those whose lives were marred by racial persecution and displacement. The tragic story of Firestone's own family lays the groundwork for these revealing testimonies of recovery, forgiveness, and moral leadership. Throughout, Firestone interweaves their voices with neuroscientific and psychological findings, as well as relevant and inspiring Jewish teachings.

Seven principles emerge from these wise narratives―powerful prescriptive tools that speak to anyone dealing with the effects of past injury. At the broadest level, these principles are directives for staying morally awake in a world rife with terror.